The Edmonton Oilers go into tonight's contest riding a horrible losing streak... but that doesn't give our Ducks any reason to be confident. This one counts just as much as any other game, and our boys need to come up big in their last at home before the Olympic break.

Especially without Ryan Getzlaf due to that ankle sprain.

The game does not start well. Our boys look rather slow, very un-physical, and there's a huge disparity of shots on goal between the clubs. Yours truly wants to yell, "Why aren't you skating?! Let's play on their end! WAKE UP, DUCKS!!"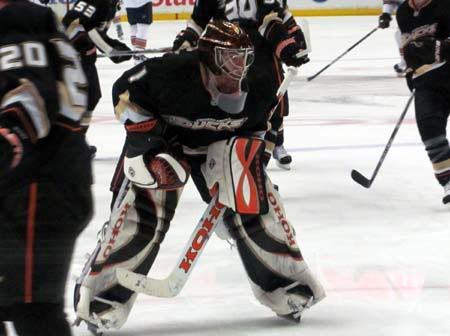 Hiller: "Dude, throw me a bone, eh?"

Jonas Hiller is the only player who appears to have suited up, and thank goodness he has. He's tested quite a few times in the first period, but holds steady. The Oil come out with guns blazing and I'm amazed they weren't rewarded for their efforts.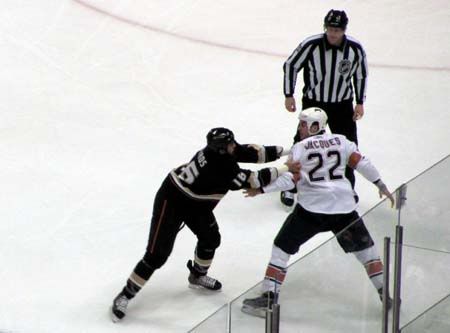 As if sensing the need for some energy, big George Parros drops gloves with Jacques

Maybe it worked! Corey Perry sends a threading the needle pass across the slot to my boy Bobby Ryan, who instantly chips it in with a one-timer.



Bobby and company at the bench to collect high-fives after the goal

With Getzy out, Bobby, Perry, and Saku Koivu make up the first line. It's an interesting group and I'm curious to see how successful they are. That one goal is a good start. Teemu Selanne, Matt Beleskey, and Ryan Carter compose the second offensive line... at least for the time being.

You know how coach Carlyle is about mixing up the lines.

Ducks go into the first intermission with the only goal of the game and yours truly is glad for that, even if we didn't quite earn it.

Back to back penalties earn the Oilers nearly 90 seconds of 5-on-3 power play. Our Ducks collapse into a tight defensive triangle and manage to keep the Oil off the board. Simply amazing.

Oilers also take their share of penalties, but Duck power plays would appear to be a bad omen tonight. A little less than halfway through the game, Oilers would force a turnover and get a short-handed bid past Hiller. Ugh.

Ducks do get their chances, but it looks like the same scenario every time. The first bid gets blocked by the Oilers netminder, and the imminent rebound never gets picked up. Why do we not have anyone crashing the crease??

With 5 minutes left in the 2nd, the Oil do it again with another short-hander. They take the lead, 2-1. But Anaheim answers back quickly during that same power play. Bobby receives a quick pass from Petteri Nokelainen, and sends a rocket of a sniper shot over the glove hand of the Oiler goaltender.

The game is tied 2-2 at the second intermission.

Play goes back and forth, up and down, for most of the third. About halfway through, Todd Marchant completes a perfect deflection of a slapper from James Wisniewski at the blue line. Ducks have regained the lead.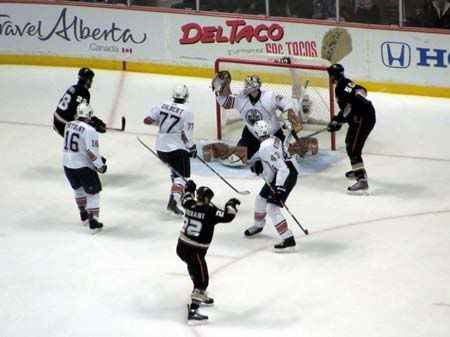 Marchant's redirection gets Wisniewski's slapshot bid into the Oil net before the glove even comes up

Frantically, the Oilers try to force the game into overtime with an equalizer. Luckily, Hiller and the boys deny them.



First star of the game, Jonas Hiller. The team better buy him a steak dinner

It was a messy, somewhat sloppy game, but our Ducks finish off their February home schedule with two more points.

Just a few more pictures...



Yay for milestones!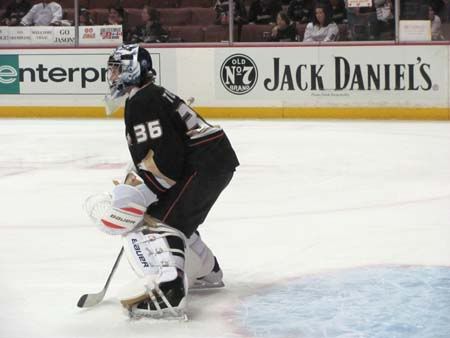 For anyone curious, this is the new occupant (Vesa Toskala) of J.S. Giguere's stool next to the Ducks bench

The Ducks have two more games this weekend before the Olympic break. Yours truly is planning to cover as many of the Olympic games (ones that feature our hometown heroes) as possible, but no guarantees I'll be able to get telecasts.

But what I can offer is a Ducks54 exclusive: an interview with Team USA forward, and my personal favorite Duck (as if you didn't already know that), Bobby Ryan! Bobby was incredibly gracious and generous with his time, allowing yours truly to get the scoop on a variety of topics, hockey and otherwise. If you submitted a question for me to ask Bobby, chances are, he answered it. Stay tuned here for his answers.