It's no secret that yours truly isn't exactly fond of Los Angeles Kings fans. Granted, they aren't as bad as Red Wings fans, and any half-knowledgeable Duck fan can always rebuke by pointing out that the Kings still have yet to win the Cup, but they're still nasty.

So by default, yours truly also isn't too hot about traveling 2+ hours in traffic to the proverbial lion's den to get heckled by Kings fans on their home turf.

However, a Duck friend offered a free ticket to tonight's contest and who am I to turn down free Ducks hockey?

John T. Meyer, of www.pickmyNHLteam.com fame, was also coming along to witness an away game with a small group of Ducks fans.

The game did not have the outcome I'd wanted, but it was encouraging to see the Ducks rally to tie things up in the third, 4-4, and for a while they managed to silence those pesky Kings fans. Unfortunately, victory would not be theirs, and Ducks would fall 4-6 in regulation. Despite the outcome, and despite the heckling, yours truly did get a number of excellent pictures.

So let's just focus on those.



Kings home ice



Warmups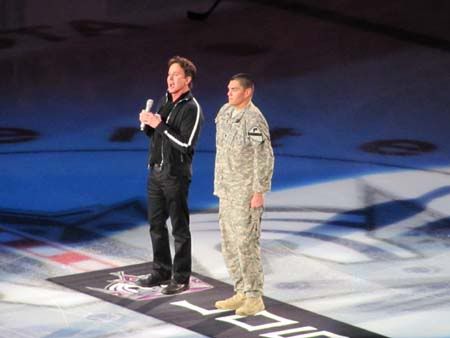 Davis Gaines sings the national anthem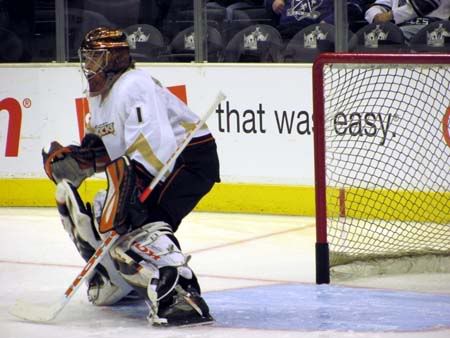 Jonas Hiller did well between the pipes. I believe our D could've done more to help him out.

I will give kudos to Brett Festerling, who played a gritty, hard-hitting game. Festerling was out there on every shift, hitting anything that moved. It was impressive.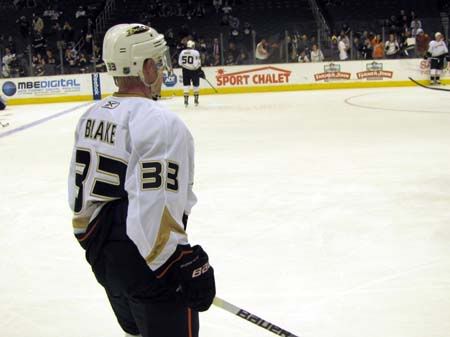 Newcomer Jason Blake would pot his first goal as a Duck during the first period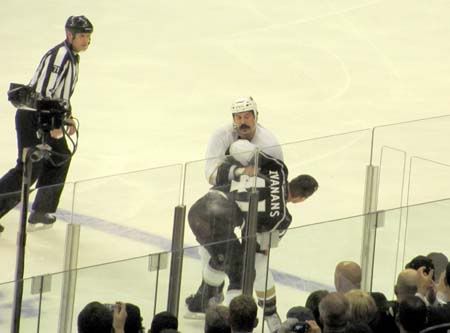 George Parros engages in a long-winded fight with Ivanans in the first



A very loud Ducks fan (standing) in the next section over thoroughly annoyed all of the Kings fans around him with never-ending cries of "Let's go Ducks!" Priceless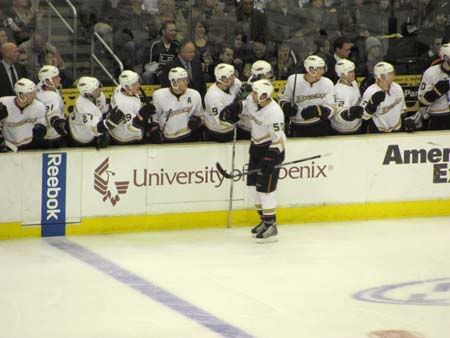 Troy Bodie skating by the bench for high-fives after putting away his third NHL career goal



Ryan Carter (pictured) and Matt Beleskey would also score for the Ducks tonight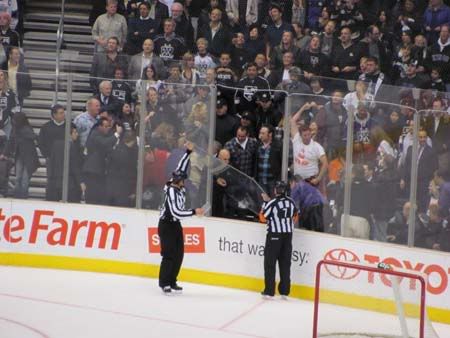 Staples Center crew replacing a pane of glass that fell after Ryan Getzlaf placed a huge hit on Matt Greene against the boards

Our hometown heroes will try to take some much-needed Western Conference points away from the Kings again Monday night. This time, our boys will be on home ice. And this time, they won't be playing the second of a back to back.

I'm hoping it'll make a difference.