Hockey great Jeremy Roenick officially announced the end of his 20-year NHL career today. He gave a touching speech at his final press conference, and I found myself getting misty-eyed even though I don't really have any strong ties to ole J.R.

I mean, I wasn't yet a hockey fan during Roenick's rise to stardom with the Chicago Blackhawks. I also didn't start attending Kings games until the season after Roenick had played in a Kings' jersey; although I understand he's not exactly a favorite amongst Kings fans. Something about underachieving...

Still, his reputation as an incredible hockey player (he's the third highest scoring American-born player in the league to date) with an incredible personality made him a hockey icon and one of the more notorious athletes in a sport that could definitely use the attention. J.R. had opinions on everything and he wasn't shy about sharing them. He played his game the same way: gritty, uncensored, passionate. Love him, hate him, or don't care, anyone with anything to do with hockey knew of Jeremy Roenick.

He was the Alexander Ovechkin of his time.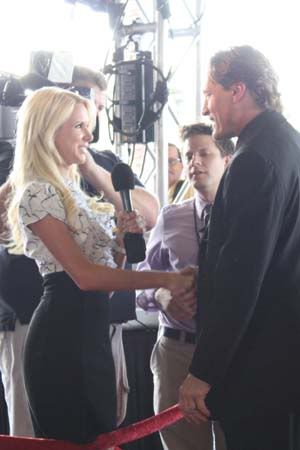 Jeremy Roenick on the red carpet at the 2009 NHL Awards

Being a Ducks fan, it's a little bittersweet that my team stole away J.R.'s last chance at the Stanley Cup. The Ducks knocked the Sharks out of the playoffs in the first round, dashing hopes that Roenick would cap off a 20-year NHL career with hockey's Holy Grail held high over his head.

As happy as I was that my Ducks won the series, I did feel a bit bad for J.R.. If anyone was more deserving after 20 years in the NHL, after doing what he did for fans and players of the sport, I would have liked to see him get there. It would have seemed right, ya know?

Well, J.R., I still admire you. Cup or no cup, you've made your mark on this sport and people will remember you for your contributions, good and bad. I'm hoping we haven't heard and seen the last of you, outspoken commentary and outrageous dance moves included: