With the preseason less than a month away, hockey fans in Southern California are getting that itch. Even more so with our 90-100+ degree weather right now, the ice is calling! Since there aren't any real live games yet to feed the hunger, Ducks fans will settle for the next best thing:

Talking to other Ducks hockey fans who share and understand the same addiction. And what better place to do this than the Ducks-sponsored hockey exhibit at the Discovery Science Center!




The first Ducks Tweetup was held here Wednesday night, thanks to organizers and Duck fans extraordinaire Suz and SK. Suz actually deserves the credit (and blame) for helping yours truly onto the Twitter bandwagon and introducing me to so many incredible Duck fans.

I'd never actually visited this exhibit before, although I drive past it almost every week off the 5 Freeway. Special thanks to the Discovery Science people for letting us congregate and see their exhibit for free.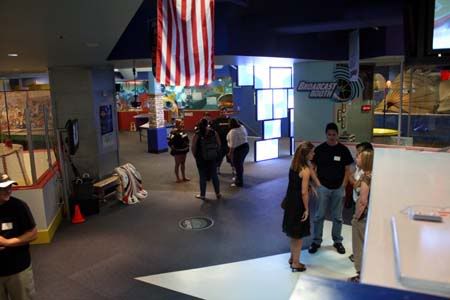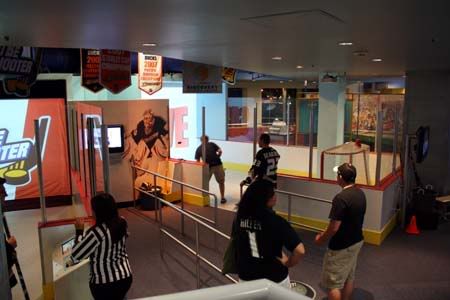 The actual exhibit is full of Ducks logos and branding, with life-sized pictures of the players, replica banners, and donated hockey equipment. Visitors can rotate through the various stations, learning about aspects of the game and the science involved.



I need one of these for my house!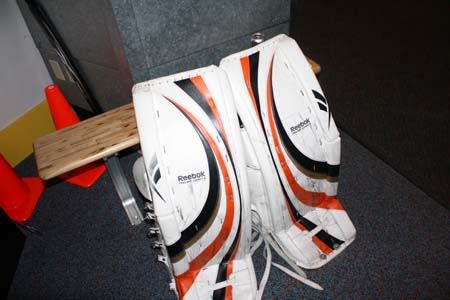 How JS Giguere and Jonas Hiller move in these heavy, bulky things is beyond me!

In the Ducks "locker room," visitors learn about the diet and exercise routines players must adhere to.




A simulated player (I think it's Corey Perry? I didn't actually look) shoots foam pucks at visitors who attempt to play goalie in front of the net...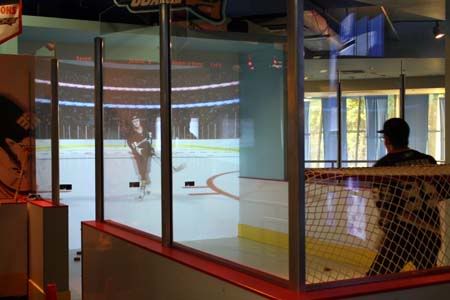 ... while a second simulation involves the visitor trying to shoot pucks past Jiggy. Yours truly actually tried this one. My result? Three goals out of five shots, average puck speed of 25mph, yay! Never mind that I fanned twice and missed the net entirely once.



Ducks PA announcer Phil Hulett goin' five-hole

Other exhibits showcase reaction time to sight, sound, and touch stimuli; a real zamboni and how it re-ices the rink; the physics behind different kinds of ice skates and their blades; the use of friction between the puck and the ice; a "penalty box" which tests math skills; and a broadcasting booth.

I personally liked the Stanley Cup champion memorabilia exhibit: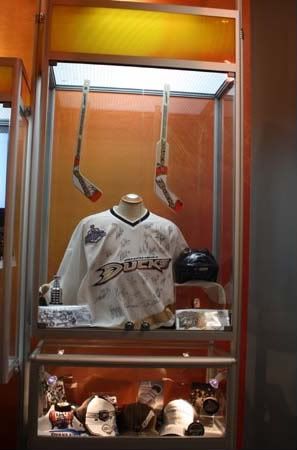 I need one of these for my house too

The best part of the evening was getting to meet a lot of the Ducks friends I had made through Twitter.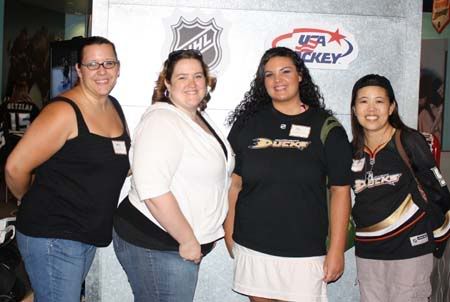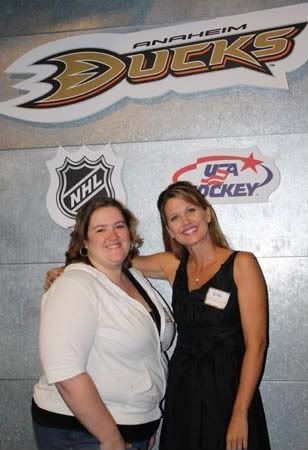 SK and Suz, the lovely ladies who made the night possible

Oh, and let's not forget the awesome chocolate Duck-cakes provided by Meringue Bakeshop.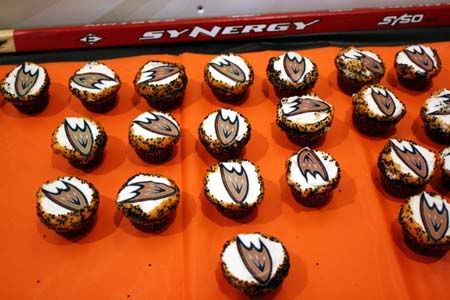 They were almost too cute to eat. Almost.

Next post? Coverage of the Shoot for the Cure and Fedorin Cup events this Saturday. Go Ducks!!!