What's quickly becoming a very popular preseason event, the 3rd annual Anaheim Ducks in a Roll took place tonight at RA Sushi in Tustin.

Including this year, I've now been to all three and I can accurately say that it gets more and more crowded every year. When it was announced that Ducks captain Ryan Getzlaf would be joined by Bobby Ryan and newcomer Andrew Cogliano, along with one lucky fan, I knew this year's event was going to be a zoo.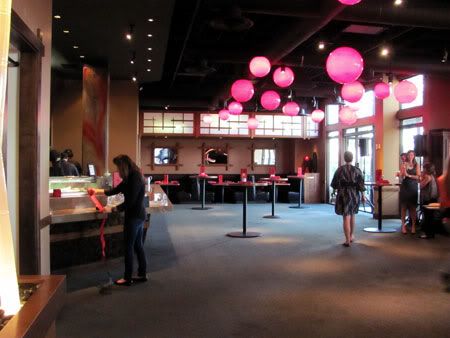 The calm before the storm

Arriving early didn't help much. Everyone was there early!

Like last year, seating was virtually nonexistent. There were a few standing tables, but otherwise, fans had to mill about and eat their sushi on the go. The "rules" were basically the same. Guests got to watch the boys roll their specialty sushi rolls and sample each roll. Purchasing a roll for $10 would count as a "fan vote" for that player, and $2 would go to the Anaheim Ducks Foundation. The roll with the most votes earns that player a win in the Fan Favorite category.



Fans eagerly awaiting

Rolls were also rated by a panel of judges and, in the end, an ultimate winner would be announced. That roll would be available on RA Sushi menus for the majority of the upcoming season, along with the $2 donation to charity.



Streamlined from last year, premade rolls were ready to go before the boys learned how to make them

Year after year, the players have a lot of fun with this event. And the fans do too. Let's look at some pictures!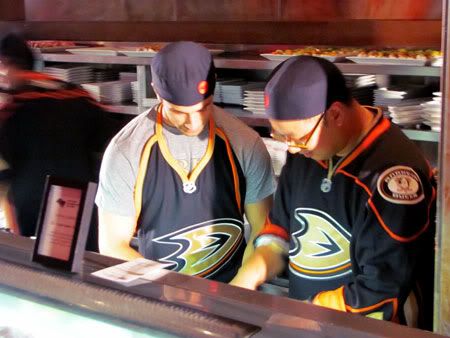 Andrew Cogliano learning how to make his roll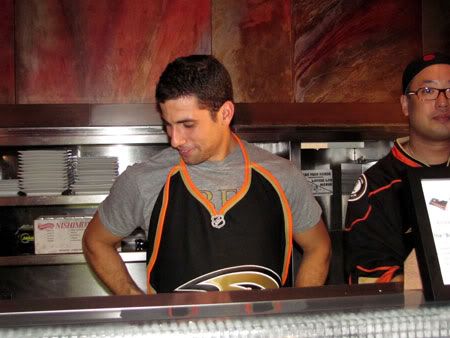 Cogs: "So, how do I start?"



Getting heckled by Gezlaf, although Getzy did admit Cogs' roll was pretty good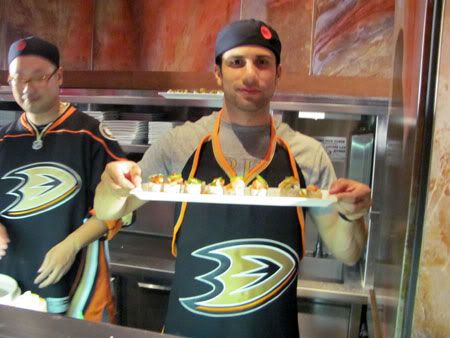 Cogs presenting the "Breakaway" roll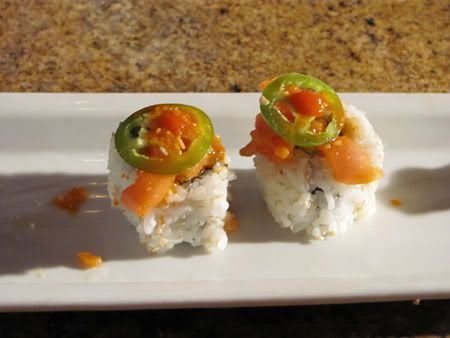 "Breakaway" roll: yellowtail, spicy albacore, avocado and cucumber, drizzled with garlic ponzu and sriracha and topped with a slice of jalapeno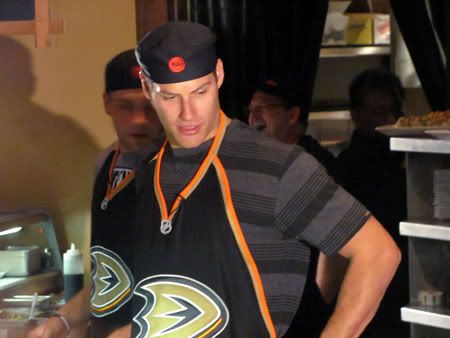 Getzlaf taking note of his available ingredients. No poutine, eh?



Bobby Ryan and Getzlaf discussing the finer points of sticky rice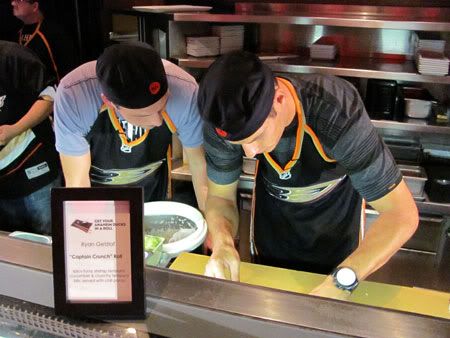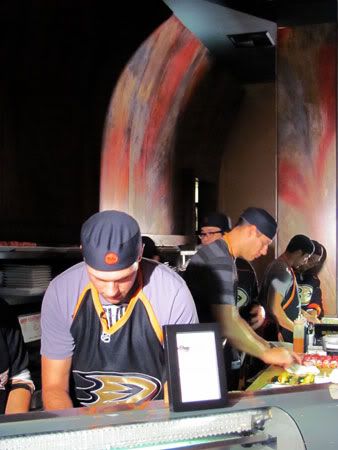 All three Ducks hard at work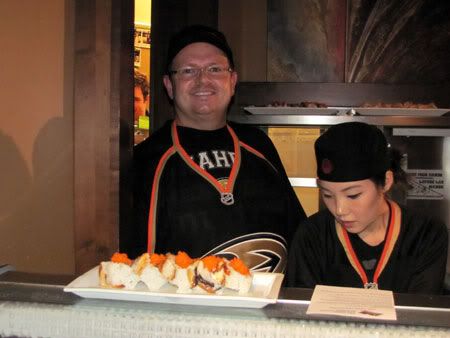 Ducks fan and winner with the highest bid, $550, Jeff Banner

Honestly, I thought Jeff's roll, the "Slapshot" (salmon, mango salsa, cream cheese inside; eel, roe, and eel sauce outside) was really good. I'm not a fan of jalapenos or spicy food so Jeff's was perfect for me.



Getzy learning how to make his roll, the "Captain Crunch" roll



What a pro!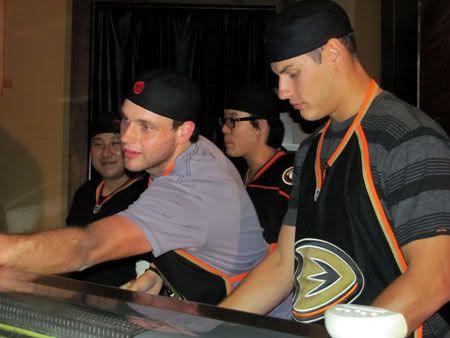 Getzy presenting his roll to the fans



Getzy's "Captain Crunch" roll: spicy tuna, shrimp tempura, cucumber, and crunchy tempura bits, with a chili ponzu dipping sauce



Bobby learning how to make his roll, the "Hat Trick" roll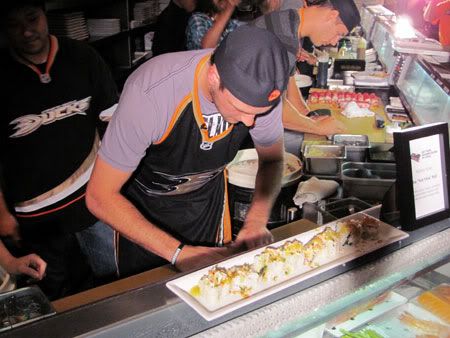 Bobby: "We don't actually come up with the names or ingredients in these..."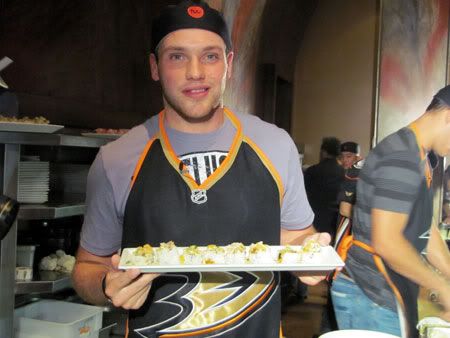 Bobby presenting his finished roll



The "Hat Trick" roll: salmon, spicy mayo, avocado and cucumber inside; crab mix and mango salsa outside

I really liked Bobby's roll too. Not too spicy, but very tasty. Unfortunately (or maybe fortunately, considering the fate of past fan favorite winners--they always end up traded), Bobby's came in third in the voting.



Getzlaf walked away with the fan favorite vote...



... but it was Cogliano and his "Breakaway" roll that won the judging

You can pick up the "Breakaway" roll at SoCali RA Sushi locations from October 11 until early April of next year, with $2 going to the Anaheim Ducks Foundation.



Said one judge, "Cogliano's roll has a bite to it, which you wouldn't expect from a player who just spent two seasons in Edmonton..."

As always, a fun event!